Contest closed!
Congratulations to our winners: Josef Israel and Chaz Mortimer.
—
Our friends at RØDE recently released iXY, the world's highest quality stereo microphone for iOS, capable of up to 24-bit/96k recording when paired with RØDE Rec or the upcoming version of FiRe. We're excited to have worked with RØDE in the development of the accessory and software.
To celebrate the release, we're giving two lucky winners the chance to win an iXY microphone!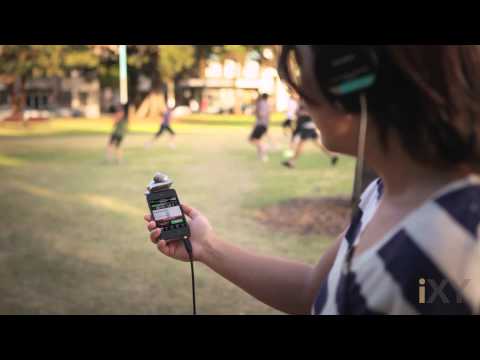 How to Win
For the chance to win, you need to do 3 things:
Leave a comment at the bottom of this page so we can contact you if you win.
Post this tweet or share either this contest page or this photo on Facebook.
Follow @audiofileeng on Twitter or Like Audiofile Engineering on Facebook.
Rules & Conditions
You may only enter once.
Make sure you use a valid email address when you comment so you can be contacted. Email addresses will not be made public.
Entries will be accepted until February 22nd at 11:59pm EST and winners will be announced and contacted on February 23rd.
Contest Closed! Thanks to everyone who entered, and congratulations to our winners: Martien Bélanger, Sebastian, Travis Keir, and F Harvell.
—
Triumph
If you've been keeping up with us on Twitter and Facebook, you know we've been working tirelessly to perfect Triumph, our brand new audio designer for Mac OS X.
We're excited to announce that Triumph is now shipping and available on from our online store!
Download
Download Triumph today to begin a 15-day trial.
Take advantage of 25% off Triumph now through November 11th (Midnight Minneapolis time).
Giveaway
To celebrate the release, we're giving four winners the chance to win a great software bundle, including:
For the chance to win, you need to do 3 things:
Leave a comment at the bottom of this page so we can contact you if you win.
Post this tweet or click the Like button on the Triumph product page or at the top of this blog post.
Follow @audiofileeng on Twitter or Like Audiofile Engineering on Facebook.
Rules & Conditions
You may only enter once.
Make sure you use a valid email address when you comment so you can be contacted. Email addresses will not be made public.
Entries will be accepted until November 6th at 11:59pm EST and the winners will be announced and contacted by November 8th.
Do you use an iOS external microphone?  We want to gather some general opinions on external microphone usage with iOS devices and which features are most important to you.  Even if you don't use an external microphone, you can still share ideas on what your dream iOS external mic looks like.
As we prepare for the launch of FiRe – Field Recorder 2.0, we'd like to know a little more about you, your previous experience with FiRe and your hopes and dreams for the future of FiRe! Please take a moment to fill out this survey:
I'm a pretty cool-headed person, but a recent TED talk (and corresponding CNN article) by author and audio branding specialist Julian Treasure has me incensed. I've respected the TED talks for quite some time, but Treasure's presentation on "10 things you didn't know about sound" contains some awfully fuzzy "facts" and lots of misconceptions about sound. Being very sensitive to the subject of audio and sound, I'm compelled to debunk some of his more dubious assertions.
1. "You are a chord."
It may be a nice way to imagine yourself, but this definition of a "chord" makes no sense in a classical or even musical context. Treasure's only supporting evidence here is this quote: "the fundamental characteristic of nature is periodic functioning in frequency, or musical pitch." The quote comes from a co-author in a paper presented at a South African music educators' conference, and it deserves scrutiny. It's basically saying that nature is a musical pitch. But listen to running water, listen to wind through trees, listen to animals bark or roar. There is no singular identifiable "musical" pitch, it's simply noise. These are the sounds of nature. There is not one single plant or animal or natural phenomenon (outside of a natural whistle effect or an advanced animal language) that is capable of producing identifiable musical pitches. The "fundamental characteristic of nature" cannot be a pitch, nor can it be periodic. There are far more examples of natural NOISE than there are of natural PITCH.
The assumption of "matter being vibrating energy" to support his argument is equally ridiculous, supported by no actual evidence. It's a fever dream of New Agers who want to understand string theory but don't. I don't truly pretend to fully understand it either, but I know it's certainly not established enough to support an argument that people are musical chords.
2. "We see one octave; we hear ten."
A cheap attempt to boost the importance of audio over visual stimuli. I would be surprised to find anyone who, if forced to sacrifice one one of their senses, would vote to lose their sight over their hearing. We may not sense as much logarithmically, but Treasure forgets dimensionality. We can sense more *dimensions* of the visible spectrum that we can of the audible spectrum, in addition to having a higher sensitivity to wavelengths in that range. We can gather much more information and sensitivity in the visible frequencies than in the audible frequencies, even though the range is smaller.
3. "Schizophonia is unhealthy."
This is a made-up term for hearing one thing and seeing another. Almost everybody who listens to music, whether it be through headphones or piped-in through speakers in the elevator you're riding, experiences this every single day. If it had any measurable detrimental effect, our society would certainly have noticed by now. His subsequent note about talking in a subway train (not to each other but into a phone, etc.) being an unnatural state and about silence being a more natural state has more to do with social sciences than with audio and sound. It may seem strange to see someone talking into "thin air," but it's something that we are going to have to get used to as a modern society.
4. "Compressed music makes you tired."
This is one of the common complaints about modern music, but Treasure gets the definition of "compressed" twisted. The type of compression that does indeed tire your sense of hearing is a DYNAMIC AUDIO compression, where the "soft" sounds are nearly as loud as the "loud" sounds. Almost all modern popular music is created in this way so that a song potentially sounds "louder" than other songs. But the compression that Julian goes on to describe is the DATA compression inherent in MP3 and AAC audio file formats. Although they use psychoacoustic algorithms, these formatting-based compression techniques do nothing in terms of the dynamic changes that can tire your sense of hearing. True enough, modern music in general can tire your ears, but it has less to do with the digital makeup of your MP3 or AAC files than it does with the larger advent of digital audio.
5. "Natural sound and silence are good for you."
This sounds all well and good, but the big question is: HOW? What does the absence of audible sound do to your brain, and is it only a healthy state to be in? I would argue that silence could have just as many detrimental effects as benign ones. Imagine someone who is without audible sound for months — someone in solitary confinement, for example. I would hypothesize that the lack of sensory input could send one's brain off-balance, perhaps to a point of madness in extreme cases. Maybe that could be considered "overdosing" on the "healthy" aspects of silence. In any case, the assertion that silence is simply "good for you" is deeply oversimplified.
As for "natural sound," well … what IS natural sound? As opposed to, say, *supernatural* sound? ALL sounds are natural to the extent that they are created and/or propagated by nature. If he's talking about sounds such as wind blowing through trees or a rushing river as being "natural," isn't he countering his point about natural sounds being musical pitches, and that they are the most healthy?
6. "Sound healing"
Here, Treasure goes on to theorize that sound by itself can heal. We need a much more robust definition than that, simply because it can be severely misconstrued and misused, opening the door for all kinds of musicological quackery. For starters, we need to punctuate the difference between *sound* and *music*. Music is a cultural construct that the modern brain is trained to comprehend. Music can and does affect moods and thoughts. Using music to change moods and thoughts in the context of *therapy* is valid, but therapy and "healing" are not necessarily the same thing. Sound, meanwhile, can be defined simply as waves of air. These waves do nothing more to the body (at normal levels) than radio waves. Very high levels of sound can move the body physically, just like a strong wind. This is not inherently therapeutic, nor is it healing It's simply physics at work. Using long tones as "shamanic and community chants" do is little more than meditation, and is not a cure for ailments.
Treasure has some interesting ideas, I'll give him that much. But they need to be fully investigated and vetted before they spread around the general consciousness as some sort of sound-and-health doctrine.
In our ongoing mission to maintain attentive contact with our customers, we've created a short survey to learn a bit more about their/your communication habits. Please spend a couple of brief minutes answering these questions and help us determine how best to serve you. No personal login is required, and as always, every shred of information about our customers is kept 100% confidential. Thanks in advance for participating.
Back in October, the second annual Modern Guitar Festival was held at the Cedar Cultural Center in Minneapolis, curated by musician Mike Michel. As described by Mike, it's sort of a "mini-NAMM show" where guitarists, listeners, gearheads and fans of music or audio gadgetry can come together and check out some really cool stuff. Audiofile Engineering was proud to be a sponsor of this year's MGF. In addition to giving attendees a hands-on introduction to stuff like ProTune, FiRe – Field Recorder and the MIDI Mobilizer, we got to mingle with some really incredible craftspeople from around the Upper Midwest and get a close look at their handmade guitars, tube amps, effects pedals and more. Our friends at Northern Outpost Media put together this video recap of the event. Check it out (especially if you've been dying to know what Matthew and I look like) and keep your eyes/ears open for news about next year's MGF.
The last time Ev or I (or any of us, for that matter) were written up in Minneapolis' venerable City Pages, it was to talk about our various musical projects. However, last week we had our nerd coming-out party via a very flattering article on Audiofile Engineering.  We must admit that it's nice to get some ink in a publication that our wives/parents would actually read and recognize for a change.
You can read the article here:
http://www.citypages.com/2010-10-06/music/audiofile-engineering-quietly-revolutionizes-recording-industry/
Spectre 1.5.2 includes a new meter: the Leq meter. The Leq meter measures the energy of a section of audio – often referred to as the "loudness." It's unlike the level meters that show you the volume of your audio at that very moment. Instead, it takes an average *over time* so you can get an idea of how much "energy" is implied during a range of time.
Taking a good Leq measurement requires you to have a start point and end point of your measurement range. You can pause, clear and run the meter again to reset it and start with a new measurement. If you don't do this, the average will be calculated from the point at which the meter was created (which may be too long for most purposes) and the calculation may include silences or other material not meant to be measured.
Another important part of measuring loudness is that it is best NOT measured with clean, raw audio. Since the human ear is sensitive to different frequencies at different levels, an unaffected measurement is not the best representation. In most cases a *filter* is placed on a trace to balance it better with the human ear. There are different types of filters you can choose from. A-weighting, B-weighting and C-weighting are commonly known filters for this task, but have been rendered somewhat obsolete in favor of:
• Leq(RLB) – a filter that is fairly flat, but with the low end gently rolled off
• Leq(R2LB) – generally the same as Leq(RLB), but with a high-end boost to mimic the effects of the human head
• ITU-R 468 – a dramatic filter that's a good for measuring "loudness"
• Leq(M) – similar to the ITU-R 468 filter, but with the level brought down slightly (great for measuring loudness in movie trailers, specifically)
With these filters enabled on a trace in the Leq meter, you can get a good measurement of the implied "loudness" of a range of audio or music and tailor your mixes or songs to match better. That's just one of many possible applications.
The cool thing about Spectre is that you can include these filters on almost ANY trace. You can add it to a custom bar in the Level Meter, or even see the filter's effects directly by applying them to a trace in the Spectrograph. See if you can find a way to use the filters that works best for you, then let us know about it. The addition of Leq was a direct result of user feedback, so we're hungry for firsthand accounts of how it works for you.
It's awesome. Here's how it works:
Every time you submit a feature request for one of our apps, it goes into our database. Once a feature request starts to pile up, it's added to our public Roadmap. At that point, you can vote on each feature and help us rank which ones should take priority.
So…get involved! You can access the Roadmap within every one of our desktop applications. Just select the application menu > Suport:
Now just click on "Roadmap," choose your priority and hit "Submit."
It's that easy.
For proof that this system really works, look no further than the Leq meter we recently added to Spectre due to popular demand. Your feedback is important!